Bernard Cornwell was a recent visitor to Norwich at the invitation of the Battlefield Trust.
The creator of 'Richard Sharpe', (portrayed by Sean Bean in the televison series), he is normally a retiring and reclusive man and his public appearances are infrequent.
He told those at the meeting that he was happy to have had a bestseller before the TV series but that Sean Bean had undoubtedly had a lot to do with his books' popularity.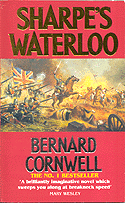 He was impressed with the TV adaptations but as an author was in a better position to re-invigorate a plot: "If I'm writing and the plot gets into trouble I can wheel out 40,000 Frenchmen and start killing them," difficult for a producer with the cost of filmset extras!
Questioned about further Sharpe novels, Bernard Cornwell said that he planned to visit the scenes of two battles in Portugal, at present gaps in the Sharpe narratives, so that there were at least two more novels to come, possibly more.